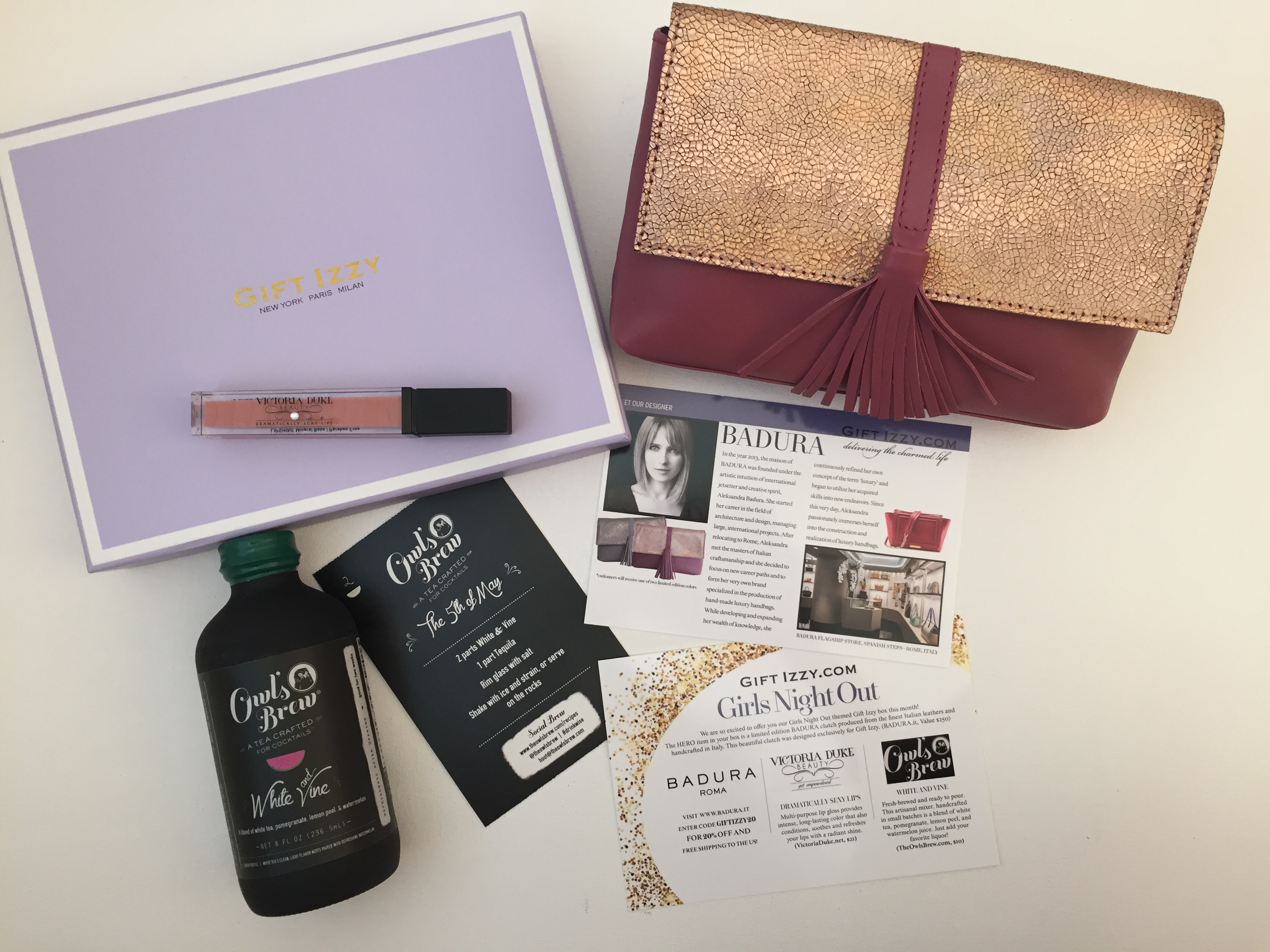 Recently I received my monthly subscription box from Gift Izzy, and it's definitely worth blogging about! If you've never heard of this subscription service before, where have you been?! This service negotiates limited edition handmade accessories with sophisticated European designers, and they love the distinct identity of raw material so each hero item is hand­crafted into a beautifully finished one­of­a­kind luxury accessory. Each expertly curated box you receive contains 3 to 4 lifestyle, beauty and accessory luxuries worth $200 for just $69. Sound like a bargain? Let me tell you, it really is! Not only is it a surprise through the post, it feels like Christmas Day, unwrapping a gift box that holds a mini collection of fabulous goodies that have been especially picked for you.
This month my box contained Owl's Brew (the perfect lifestyle brand if you're into your fancy tea), a Victoria Duke lip gloss and more to the point, a brand new clutch bag from Badura, in an amazing shade of pink with a copper metallic finish.
I've always been so happy with my monthly box and the best thing about this subscription service is that you can choose your own plan. There's no contracts to sign, or fuss and hassle. It's simple and straightforward. If you're thinking about joining, I recommend trying it out first. First, choose your product size. Then select your monthly plan. I really do recommend the annual plan, for optimum saving! All products auto­renew unless cancelled before the next shipping date. You don't have to worry about that either, as Gift Izzy will remind you before auto ­renew. If you're feeling like you need to pamper yourself or treat yourself then this box is a must!
Click here to view the past boxes.