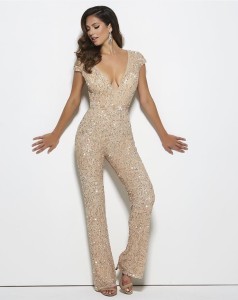 The Grammy's are tonite and I can not wait for the red carpet to see the fashion our favorite celeb's are going to wear! Jennifer Lopez is always on point, always fashion forward, and loves to take risks. I would pick this Mac Duggal stone encrusted jump suit. Totally appropriate for the Grammy's but different for a red carpet.
With her skin tone and hair color she would look fab in this nude/champagne color ensemble. Add some pink nails and a nude/pink lip, her red carpet look would be full of fab!
Can't wait to see what she wears tonite!
*images do not belong to me