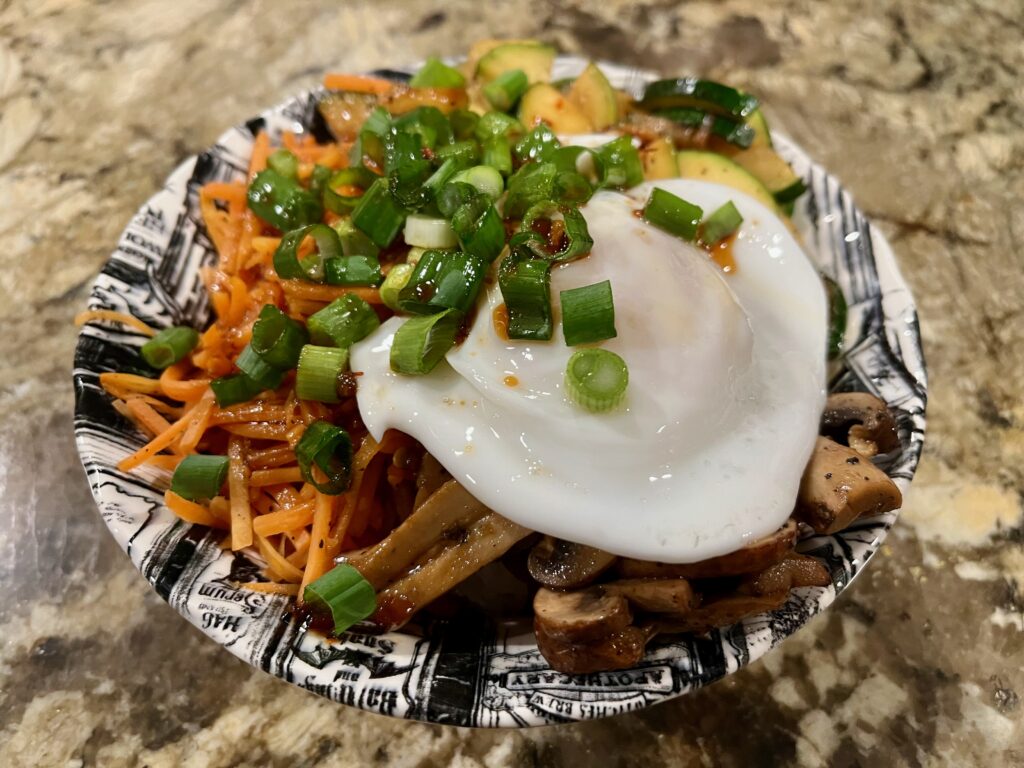 Bibimbap, a classic Korean dish that can be found on restaurant menus around the world, is typically made with a variety of delicious toppings served over rice. In this recipe, we'll make a healthier version of the popular dish by substituting vegetables such as zucchini and mushrooms for the usual protein toppings like beef or pork.
Though veggie-based bibimbap may lack some of its original flavor intensity, you'll find that this lighter version offers an array of other benefits in terms of nutrition and overall health appeal. The environment-conscious will love how our veggie bibimbap reduces one's carbon footprint compared to more traditional recipes. Plus, combining zucchini and mushrooms with authentic spices creates a texturally unique dish that is sure to whet your appetite for something different!
INGREDIENTS
4 eggs
2 zucchini
2 scallions
6oz shredded carrots
8oz Baby Bella or Portobello mushrooms
2 cups Jasmine rice
1/4 cup white wine vinegar
2 tbsp rice wine vinegar
6 tbsp soy sauce
2 tbsp sesame oil
1 tsp garlic chili sauce
1 tbsp ginger
2 tbsp sugar
olive oil
salt and pepper to taste
HOW TO MAKE IT
STEP 01:
Wash and dry produce. Slice zucchini then quarter slices. Slice mushrooms and scallions, separating scallion whites. Shred carrots (or use a nag of shredded carrots for quicker prep).
Cover scallion white in white wine vinegar and set aside to pickle.
Add rice to pan or rice cooker. Add 1 tbsp ginger. Cook according to package directions.
STEP 02:
Heat a drizzle of oil in a large pan, add shredded carrots, season with salt and pepper, and add 1 tbsp rice wine vinegar. Sautee for 3-4 minutes until softened. Remove from pan.
STEP 03:
Add another drizze of oil to the pan, add quartered zucchini, salt and pepper to taste, and add 1 tbsp soy sauce. Sautee for 2-3 minutes until softened. Remove from pan.