Planning a memorable Galentine's Day event may seem daunting, but don't worry! We have you covered with the best idea ever for an unforgettable Galentine's Day — a girls' cruise!
"Chartering your own private yacht is a fantastic idea for Galentine's day, whether it's a full day, half day, or sunset cruise," said Robert Harrington, US Country Manager of SamBoat, a VRBO-style platform for renting boats worldwide. "If you're planning a full day, you'll probably be able to cruise to several different places, jump in the water, and enjoy all kinds of activities on the boat. If you're planning an afternoon or evening cruise, there really isn't anything better than seeing a sunset on the water."
According to Harrington, planning a successful Galentine's Day cruise only takes four simple steps.
Step 1: Pick your guests
First, this is Galentine's Day, so consider the important women in your life. The point of this cruise is to spend quality time together and have a great time.
According to Harrington, the most common mistake people make when planning a yacht charter is having over 12 guests on the yacht. "The Coast Guard is very strict when it comes to the number of guests onboard throughout the United States," he said. "The maximum number of guests is strictly enforced."
After you have made a list of no more than 12 friends and family members, Harrington recommends creating a group chat with them and pitching the idea of renting a yacht. Ask for RSVPs so that you know who plans to attend. If slots open up, you can invite additional guests.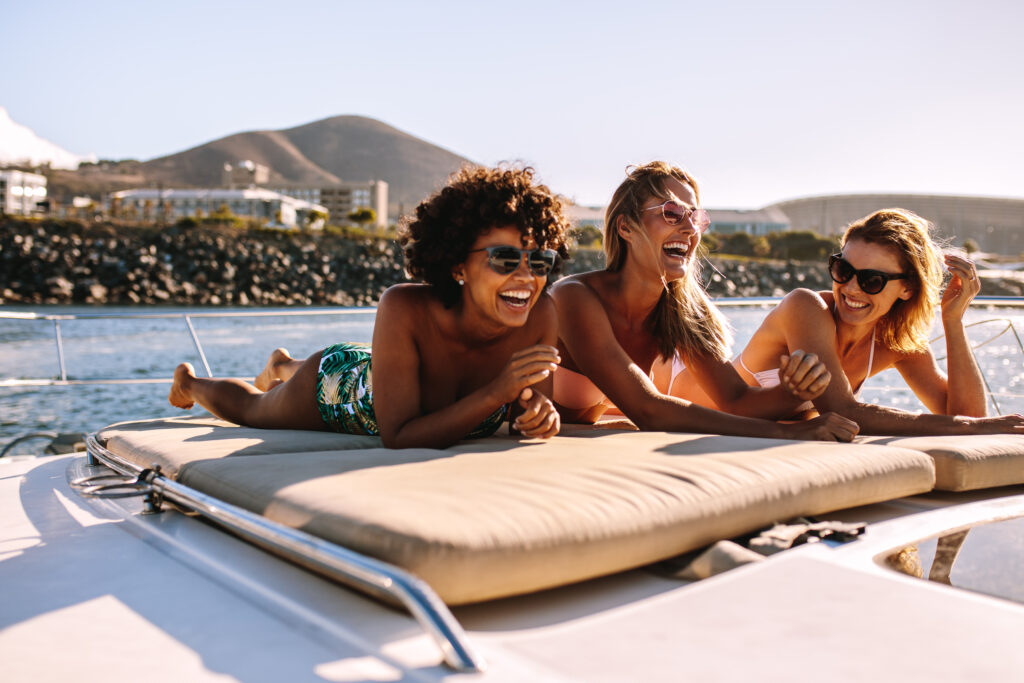 Step 2: Find your boat
The next step is to do some research online to find the right boat for your Galentine's Day cruise. If you are prepared to do a lot of this work yourself, then conduct Google searches to locate boats that fit your budget and travel time requirements. You might also look into local companies that offer cruising experiences or boat rentals that have packages specifically designed for groups.
SamBoat makes finding the right boat fast and easy. Point your browser toward www.SamBoat.com and browse through the selection. They come in all sizes, prices, and styles, from pontoons to luxury flybridge yachts.
"The most important thing to remember when planning a Galentine's Day charter is to select the right boat for your particular group and goals," Harrington said. "If you're looking for lots of space, I recommend a flybridge yacht. If you're looking for a more upbeat experience, I would recommend an express cruiser, as they can go faster while out on the water. Each boat will provide you with a different experience. SamBoat is happy to make recommendations and help find your perfect boat!"
If you think you can't charter a cruise because you don't know how to sail a boat yourself, then no problem — plenty of SamBoat rentals even include your very own skipper.
Step 3: Book your cruise
Once you've selected your perfect boat, the SamBoat platform enables you to send a message to the owner if you've got any questions and book your boat. But don't wait too long!
"Unfortunately, there are only so many boats out there, and going on a cruise is a popular activity," Harrington said. "Once you find the perfect yacht, book it! With SamBoat, you're covered by a flexible cancellation policy anyway. Don't let someone book the yacht before you do!"
Step 4: Pack appropriately
In the days and weeks leading up to your cruise, plan what to bring onboard. "Don't forget food and drinks," Harrington advised. "Champagne, prosecco, or seltzers are always a safe bet, especially to cool down while out in the sun. The only drink we don't recommend is red wine, as it can stain the white decks of most boats.
"If you're going out for a full day or during the sunlight hours, sunscreen is always a good idea," he added. Spending so many hours in the sun can lead to painful sunburn, so remember to bring that sunscreen!"
A hat, sunglasses, light pants, and a long-sleeved shirt can also help protect you from the sun's harsh UV rays while out on the water. Consider bringing a light jacket or sweater in case the weather turns cool.
Most of SamBoats' yachts are equipped with Bluetooth stereo systems, so get ready to groove to your favorite party playlist. Finally, don't forget your camera. After all, you can never have too many photos of this special day with your best gals!
Enjoy!
The only thing left to do is meet your Captain on the day of the cruise and enjoy being out on the water.
The best part of planning a Galentine's Day cruise is that it doesn't have to be complicated. You can make your trip as simple or elaborate as you want.
"Chartering a yacht for Galentine's day really is the perfect way to celebrate the event," Harrington said. "At the end of the day, the only thing that will stay with you for a lifetime are your memories. And there's no better way to create memories than on the water.