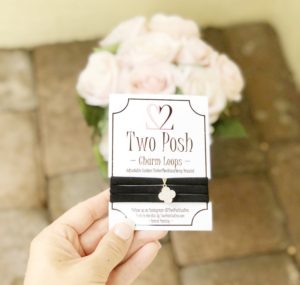 Recently as I was browsing Instagram, an account with the name Two Posh caught my eye. I went through some of their products and was tempted by one product, in particular, the charm loop. It looked like the kind of stretchy choker I had needed for a while. I purchased a charm loop and I was intrigued by the options I found myself having. I was interested in the process of customizing my own charm. I could the type of chord between a chain, a stretchy material or a soft suede. I could then choose the color of the loop from a variety of options.
Why Two Posh?
I love accessorizing and Two Posh introduced me to a product that can be used as a choker, a bracelet, and a necklace. It's a reliable product and it can be used in many different ways depending on how you use it. Their products are sturdy and are highly wear resistant.
My Take
I honestly believe the charm loop is an amazing accessory to have. It feels really comfortable around your neck or your wrist. The color choices and charm types were something that really sparked my interest. I would personally say this item is something worth having.
It can be difficult to find the right choker or bracelet. Two posh has exciting customization to create just the right charm for you. You can choose between a suede cord, a chain chord or an elastic cord. You can choose between the type of charm you want to add and they have a lot of cute options. There are plenty of colors to choose from which allows you to create the accessory of your choice. You can even mix and match charm loops!
A lot of problems I've had with many of my necklaces is that they would often be too weak and the chain would break too easily. Two Posh's charm necklaces are not only durable but also very stylish.
I have been using my charm loop as a choker/necklace mostly but even when I tie it on my wrist, it feels really comfortable and looks good. It has a lot of purposes and it goes well with most of my outfits.
So far, I have loved having my charm loop and I would recommend buying it. Go here to purchase www.twoposhladies.com.